On Tuesday two colleagues and I took a taxi and after the usual uncertainty whether the driver understood us or not, drove to the "Sanya Nanshan Cultural Tourism Zone". It was described as a "buddhist park", which sounds like an ancient religous place. I had read that there is a 108 meter high Buddha statue in that park, which was finished in 2005. After arriving there we understood, that the emphasis is on the words "Tourism Zone".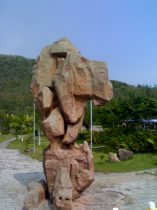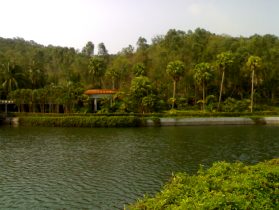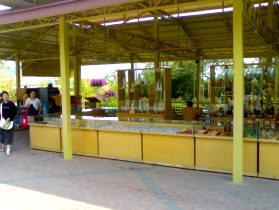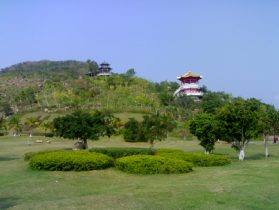 Impressions from Nanshan ...

It is in fact a good place to lose the last illusions about Buddhism as something purly spiritual. You find it all here: believers on their knees in front of statues, souvenier shops all along the way, entry fees in the realm of those for a Rolling Stones concert and figures of heros that look like they have just fallen out of the latest Pixar movie.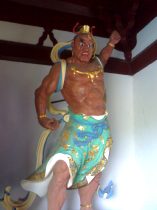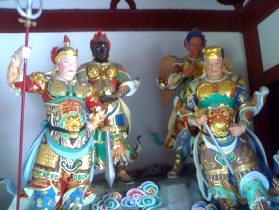 ... where Disney and Buddha have a rendezvous.

What is obvious and to my eyes fair is that local pepole pay less money than the few Western tourists, that are not supposed to visit the area for reasons of faith. On the tour busses everything is explained in Chinese language only, but the tour guides are very friendly and some of them spoke good English, so we found out, that the park was built nine years ago.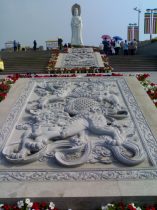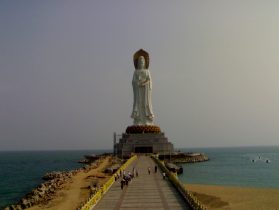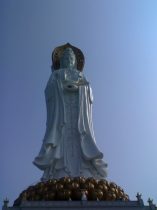 Buddha off the shore

Nanshan is nevertheless a beautiful place that is for sure worth visiting as long as you do not bring false hopes with you. It is built at the shore, in the middle of hills full of tropical trees and so it looks far away from anything. Some of the places there are quiet and atmospheric. Built next to a fast growing tourist region, having one of the biggest existing religious monumtents in the world right in its center, Nanshan is a monument of Chinas growing wealth and prosperity.

view entry
( 640 views ) |
permalink
|
related link
|





( 2.9 / 1573 )